PALNI Celebrates 25 Years of Success
The Private Academic Library Network of Indiana Inc. (PALNI) celebrated its 25th anniversary with a day-long event, strategic planning, and an awards reception May 24th, 2017 at Marian University's Allison Mansion. The organization has successfully collaborated to support innovation, learning, and efficiency for all PALNI institutions since 1992.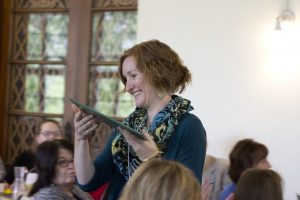 The PALNI Hall of Fame award was bestowed upon organizational members who've demonstrated exemplary service throughout the lifetime of the PALNI collaboration. Other awards given were the PALNI Leadership in Deep Collaboration, PALNI Lifetime Vision, and the Heart of PALNI Award embodying the collaborative character of PALNI. The awards were developed from the input of all library staff.
The celebration's highlight was the historically-themed luncheon where founding members and strategic influencers Mary Persyn, Walter Morrill, Eileen Saner, and Tom Kirk shared memories from the pioneering beginnings. Former Hanover Director, Morrill, tearfully spoke of approaching the Lilly Endowment to ask for the organization's initial funding. "It really is difficult to go back and think of all the good times we had together—maybe one of the toughest was one day, a group of us descended on the Lilly Endowment Incorporated on North Meridian. We came to the very central part of the state, hats in hand, with a great deal of trepidation at that time, we approached the Lilly Endowment, Inc. (…) It was enough to found PALNI."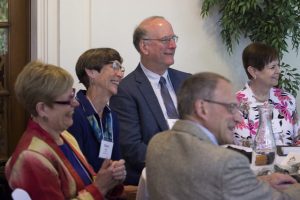 Former Anabaptist Mennonite Biblical Seminary Director Eileen Saner brought some levity to the room with her story about how PALNI celebrated, all of a sudden, there was a Scottish bagpiper in full regalia. He came into the room playing, very loudly, traditional Celtic music. Instantly, the event planners in the room regretted not booking a Celtic bagpiper for the 25th celebration as well.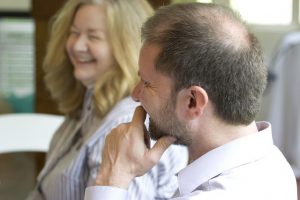 PALNI Executive Director Kirsten Leonard (left) and Assistant Director Noah Brubaker (right) share a laugh during the 25th Anniversary celebration. (Photo by: Megan West/PALNI)PALNI has embarked on new initiatives well beyond the traditional library to support assessment, scholarly communication, and instructional technology, among others. The PALNI board of directors has committed to deep collaboration between PALNI institutions, providing better service to students and faculty by sharing resources to reduce duplication and fuel innovation. Kirsten Leonard, the PALNI Executive Director, said "PALNI is a trailblazer in working together at scale. Consortia worldwide are looking to PALNI for guidance and for what new services we will develop next."