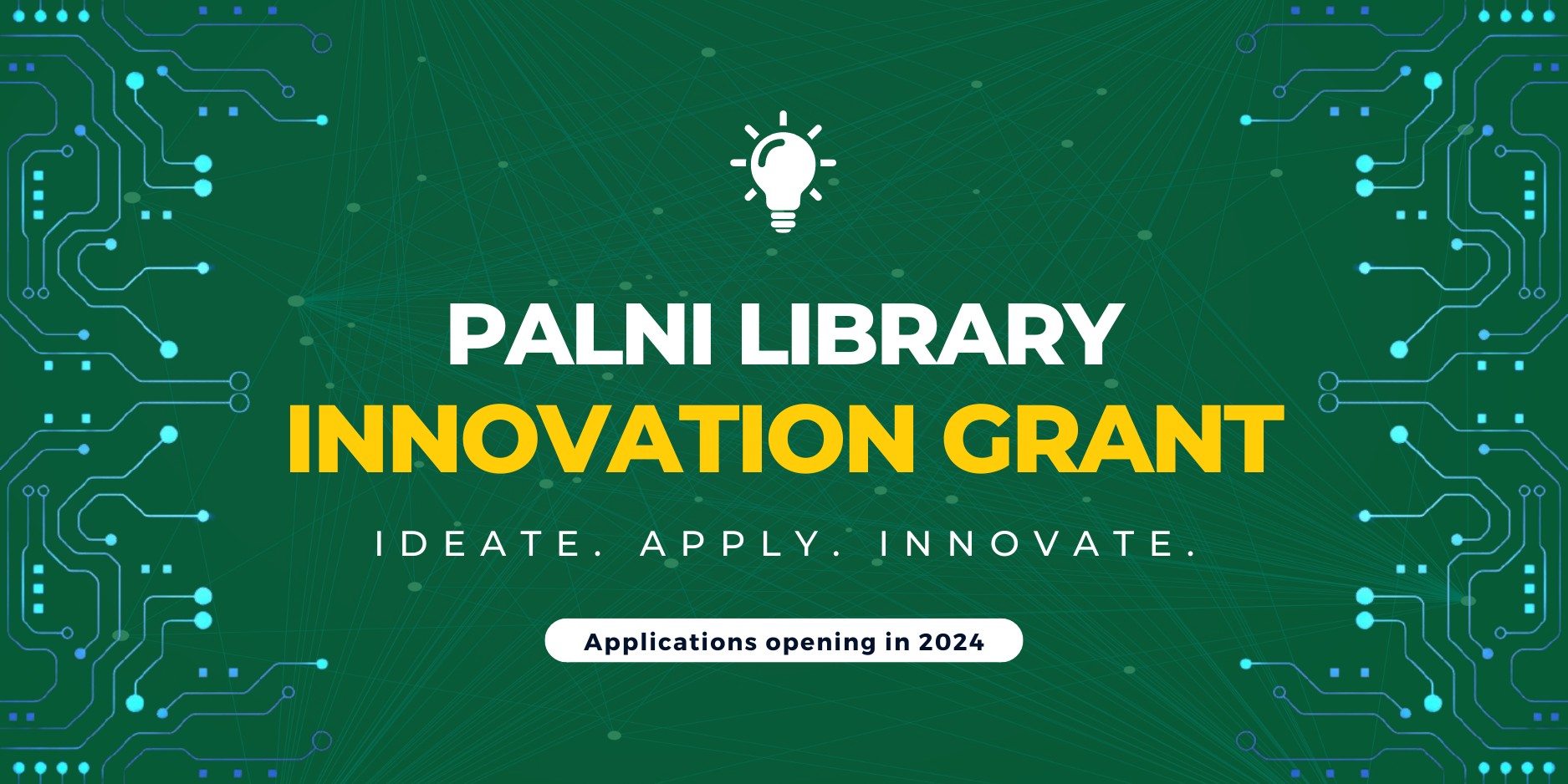 What is the PALNI Library Innovation Grant?
Library Innovation Grants aim to optimize library resources and services in ways that significantly expand our ability to support teaching and learning across PALNI schools. Funded projects align with PALNI strategic priorities and support deep collaboration.
Award amount

Up to $20,000 per year across selected proposals.

Grant period

Up to one year.

Cost share requirement

No requirements.
Eligibility

Any employee from a PALNI supported organization library may apply. Collaborations between PALNI libraries or between the library and other areas in the PALNI supported college, university, or seminary, are eligible and encouraged.
Evaluation rubric
Employees of PALNI libraries can reference the evaluation rubric for specific guidelines and more detail.
Program requirements
PALNI restricts use of grant funds solely to the purpose of the grant. Funding must be utilized as proposed in the application unless written adjustment is requested by Grantee and approved by the PALNI Executive Committee.
Grantee will maintain accounting and financial records and shall furnish copies of bills, invoices, cancelled checks, receipts, etc. to the PALNI contact upon request.
Under no circumstances may Grantee expend, borrow (inter-fund), pledge or transfer grant funding for reasons unassociated with the stated purpose.
Grantee may reallocate budgeted items up to 10% of individual line item amounts provided that prior written notice is given to the Grantor. Any other changes in budget require prior written approval of PALNI; contact Kirsten Leonard.
Any portion of the grant remaining unexpended at the completion of the project or at the end of the period shall be repaid to PALNI within 30 days unless the PALNI Executive Committee, in its sole discretion, shall otherwise specify in writing.
If the Grantee fails to meet any of the agreed upon requirements of the grant, PALNI may at any subsequent time by notice to the Grantee require repayment of disbursed funds, full or in part.
PALNI may, at its expense, monitor and conduct an evaluation of procedures and operations under this grant through visits, observations, or meetings with participants.
Grantee shall submit the text of any proposed news release concerning the grant to the PALNI contact for review (by the ED, Chair, StratComm) and approval prior to its release date.
Grantee shall provide a detailed summary of results in person and in writing. The grantee is committed to present at the next scheduled PALNI Symposium or All-Staff meeting.
View PALNI Strategic Framework and Commitment to Deep Collaboration.
Are there specific formatting requirements for proposals?

There is a 300 word maximum for project title and overview, and final proposals should be no more than 15 pages. Otherwise, there are no specifications. We generally expect margins to be between .5" and 1" and font to be 10-12 pt. for overall readability. Aim to be as succinct as possible to save the reviewers time while still being able to articulate a full case. 12 pt. font in Arial or Times New Roman with at least .5" margin is fairly standard.
What file format should I submit for my proposal?

Google doc or Word doc, but PDFs for supporting materials or letters is acceptable.
How or where should the final proposal be submitted?
Is $20,000 the maximum amount for a single award, or the total amount to be granted in each cycle?

$20,000 is the total for the grant cycle and typically we award 2-3 grants. Therefore, the amount received by a single project is typically less than $20,000. It is ok to provide options on levels of the funding request depending on our ability to fund a project.
Can my institution still apply for a grant if we have received one within the past year?

Institutions can still apply for a grant the subsequent year. Each proposal is judged on its merits and impact across PALNI.
When are reports due for awarded projects?

In June of the following year. Reports are reviewed in July, with public presentations of the work scheduled for future dates.
Submit your proposal
Completed proposals should be submitted via email to Kirsten Leonard, PALNI Executive Director, and/or Molly Reed, PALNI Director of Strategic Communications. The deadline has ended for 2023 applications.
Past Projects
2022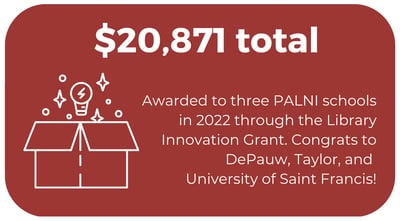 DePauw University
Controlled Digital Lending (CDL) Infrastructure
Taylor University
Improving Student Success
by Providing Quiet Study Space
University of Saint Francis
Creating Innovative, Interactive,
and Engaging Online Tutorials for Student Success
2021
Goshen College
Can Testing and Group Study Coexist? Flexspace with a Purpose
2020
Manchester University
Meeting Students Where They Are: Improving LibGuide Reach with the LibApps LTI Tool
2019
Butler University
Making Cultural Heritage Artifacts into 3D Digital Objects Using Photogrammetry