PALNI honors those who have made it a 25-year success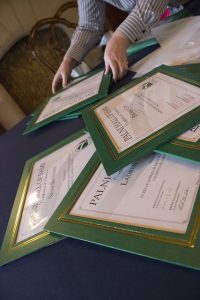 The Private Academic Library Network of Indiana Inc. (PALNI) celebrated its 25th anniversary by presenting forty-seven awards of recognition on May 24th, 2017 at Marian University's Allison Mansion. PALNI, a non-profit organization supporting collaboration for library and information services to the libraries of its twenty-two supported institutions, was initially funded with a Lilly Endowment Inc. grant. The organization has successfully partnered to support innovation, learning, and cut costs for all PALNI institutions for more than a quarter century.
The Executive Director, Kirsten Leonard, gifted five categories of awards during the event. Each founding member attending the celebration received a Founders Award to recognize their creation of the PALNI organization. The Hall of Fame award was given to those who have helped to create the synergistic environment, strategic direction, and success PALNI has achieved. The Outstanding Achievement Award for Leadership in Deep Collaboration was bestowed to select library directors who have led the way in working together more deliberately and effectively. The Lifetime Visionary Award honors those in PALNI who have been able to understand the long-term demands on libraries and helped the organization to work together to meet those needs. Finally, the Heart of PALNI Award was given to staff who embody the warm, supportive culture of PALNI.
Founders Award
Eileen Saner, Anabaptist Mennonite Biblical Seminary

Ron Schuetz, Franklin College

Devon Yoder, Goshen College

William (Bill) Darr, Grace College and Theological Seminary

Walter Morrill, Hanover College

Randy Neuman, Huntington University

Rob Gratz, Manchester University

Cathy Salyers, Saint Joseph's College of Indiana

Robert Hodge, Taylor University

Mary Persyn, Valparaiso University
PALNI Hall of Fame
Karl Stutzman, Anabaptist Mennonite Biblical Seminary

James Bell, Anderson University

Amanda Starkel, Butler University

Franny Gaede, Butler University

Janice Gustaferro, Butler University

Josh Petrusa, Butler University

Richard Lammert, Concordia Theological Seminary

Brooke Cox, DePauw University

Bruce Sanders, DePauw University

Caroline Gilson, DePauw University

Ruth Szpunar, DePauw University

Sherri Parker, DePauw University

Sudha Anand, DePauw University

Jessica Mahoney, Franklin College

Susan Leach-Murray, Franklin College

Eric Bradley, Goshen College

Joe Springer, Goshen College

Rhoda Palmer, Grace College and Theological Seminary

Heather Loehr, Hanover College

Randy Neuman, Huntington University

Darla Haines, Manchester University

Doris Stephenson, Manchester University

Edward Mandity, Marian University

Colleen Gocken, MCLS

Susan Fipps, MCLS

Shawn Denny, Taylor University

Lauren Magnuson, Trine University/PALNI

Barb Chen, University of Saint Francis

Maureen McMahan, University of Saint Francis

Noah Brubaker, University of Indianapolis/PALNI
Outstanding Achievement Award for Leadership in Deep Collaboration 2017
Julie Miller, Butler University

Fritz Hartman, Goshen College

Anita Gray, Huntington University
Lifetime Visionary Award for Leadership in Deep Collaboration
Eileen Saner, Anabaptist Mennonite Biblical Seminary

Dan Bowell, Taylor University
Heart of PALNI Award
Carly Dannenmueller, PALNI & Butler University

Megan West, PALNI