Strategic Framework 2020-2023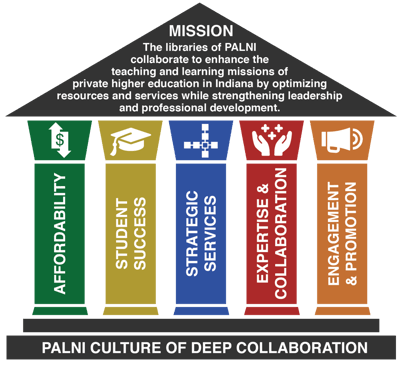 In response to rapid changes in the education landscape and in recognition of PALNI's broad scope, the consortium has developed a dynamic planning tool, the Strategic Framework 2020-2023. The framework empowers PALNI with greater agility to meet the needs of our supported institutions.
The PALNI Framework is a tool used to evaluate needs and set priorities. To support student success, PALNI adjusts action plans on a quarterly basis to address evolving challenges and opportunities—ensuring we optimize our time, expertise, and resources.
View PALNI's archived 2017-2020 Strategic Plan.
Framework Pillars
Affordability

Maximize fiscal stewardship to improve College Affordability by making strategic investments in collaborative expertise, services, and resources of PALNI libraries
Student Success

Improve student success and retention by supporting and strengthening library services and partnerships
Strategic Services

Investigate and provide strategic services to meet changing institutional and information needs
Expertise and Collaboration

Cultivate individual library staff expertise and PALNI collaboration to enhance capacity, creativity, collaborative efforts, agility, and effectiveness
Engagement and Promotion

Through engagement with our constituencies, promote, educate, and communicate the value and impact of the PALNI library expertise, services, and resources