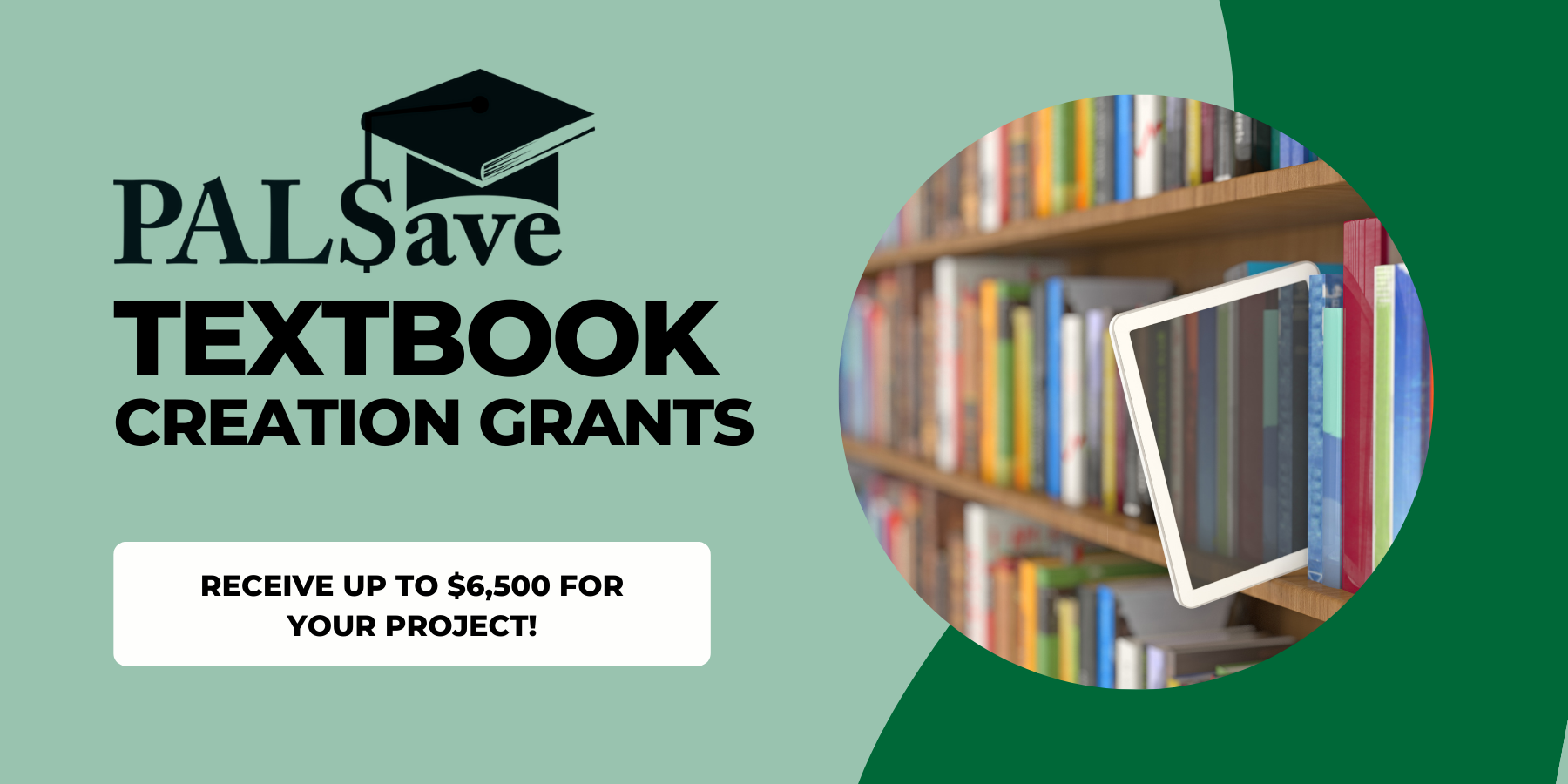 Textbook Creation Grants
Write, publish, share.
With support from Lilly Endowment, Inc., the PALSave Textbook Creation Grants Program funds the creation of new OER textbooks. Applications for the 2023-2025 cohort closed on January 15, 2023.
The Textbook Creation Grants Program awards funding to faculty members from PALNI-supported institutions to create open textbooks. These resources become freely available on the web, reducing costs to students enrolled in courses in the future. Financed with support from Lilly Endowment Inc., each author receives up to a maximum of $5,000 with a cap of $6,500 per proposal. The grants run in overlapping two-year cohorts.
Faculty members from PALNI-supported institutions are regularly invited to submit textbook creation proposals for courses they teach, covering any discipline at the undergraduate or postgraduate level. Proposals for textbooks geared toward a specific field of study that meet the inclusion criteria for the Open Textbook Library are also sought.
For questions about the program, or the requirements, please contact us.
Program resources (licensed CC BY)
The following resources are available to those interested in learning more about PALSave Textbooks Creation Grants and developing OER.
Funded projects
Congratulations to our current and past Textbook Creation Grant-funded authors!
2021-23 cohort
Butler University
Marian University
Paul Bible and Lucas Moser — An Open Guide to Data Structures and Algorithms
Yuriko Ikeda and Julia Baumgardt — Comunidades
2022-24 cohort
Anderson University
Cara Miller — Writing and Digital Media
Franklin College
Arbin Thapaliya — Ultrasound Physics and its Application in Medicine
Marian University
Mark Latta — Social Action Writing: Public Narratives and Methods of Community
2023-25 cohort
Huntington University
Karen Jones — Curriculum Development for Christian Ministry
Saint Mary-of-the-Woods College
Jennie Mitchell — Leveraging Data Visualization to Communicate Effectively
Saint Mary's College
Cibele Webb — Concepts of Evidence-Based Practice and Nursing Research Methods
Vanessa Young — Comparative Vertebrate and Human Anatomy: Ecology, Evolution, and Function
Taylor University
Angela Pacheco-Gonzalez — Cultures and Civilizations of the Hispanic Countries
University of Indianapolis
Laura Merrifield Wilson and Greg Shufeldt — The Exciting Dynamics of State and Local Government
Peter Murphy — An Introduction to Legal Philosophy
Wabash College
Jennifer Abbott — Public Speaking and Democratic Participation: Speech, Deliberation, and Analysis in the Civic Realm, 2nd ed.