Anderson University publishes open text through PALNI Press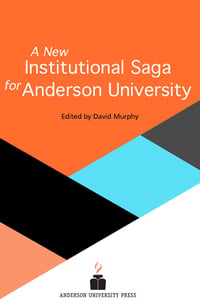 Anderson University has published an essay collection, A New Institutional Saga for Anderson University, through the PALNI Press. The book features essays written by AU faculty and alumni, and is offered as a resource specifically for first-year students. The text seeks to broaden the narrative of AU's history through differing perspectives and focal points that both contextualize and enrich the university's legacy.
"Working with PALNI Press was incredibly easy," says Dr. Cara Miller, Associate Professor of English, Director of First-Year Writing and AU Press Editor. "We received consistent support throughout the entire publication process, and we are very proud of the final product—our first open source book that we can share with our students, our colleagues, and other AU stakeholders for years to come."
Read the full announcement here, and visit the collection online.