Butler Faculty Member Publishes an Open Textbook with PALSave Program
Butler University faculty Brian Weidner reduces the student textbook cost burden by creating an open access book for his course, "Brass Techniques 1," after receiving a PALSave Course Redesign Grant. Using an open-access textbook, each student in this course will save $50 with a total savings of $550 for Fall 2020.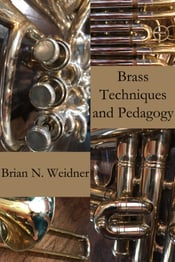 PALSave combats rising textbook costs at the twenty-four PALNI supported institutions using free materials like open educational resources (OER) instead of expensive commercial textbooks. Along with receiving a Course Redesign Grant, Weidner was the first in the consortium to use Pressbooks, an open-source, open-access publishing platform provided by PALNI, to create his textbook. Pressbooks allows editing and remixing of existing material, providing faculty with the ability to customize their course materials to meet their students' needs.
About the course redesign process Weidner states, "Redesigning this course around a custom-made OER has allowed me to flip the classroom as the textbook meets the exact needs that my students have. While it has taken me time to build a brand new text as there were no open textbooks out there already, my students have expressed how excited they are to have a resource that they do not need to pay for, and colleagues at other institutions have discussed adopting this text to support their students as well. I look forward to having this text improved by others who choose to use it in the future."
PALNI is hosting and supporting Pressbooks for current Course Redesign Grant awardees, and this fall the service will be available to any faculty member at a PALNI-supported institution. To encourage faculty to create their own, original open textbooks, PALSave Textbook Creation Grants will also be announced this fall.
PALNI's Pressbooks service is made possible by two of its collaborative groups, the OER Publishing Task Force and the Publishing Services Administration Team. The PALSave program itself is supported with funding from the Lilly Endowment, Inc.
To view Brian Weidner's open textbook, go to "Brass Techniques and Pedagogy."
About Butler University: www.butler.edu
Located in the heart of the Indianapolis Butler-Tarkington neighborhood, Butler University seeks to provide the highest quality of liberal and professional education and to integrate the liberal arts with professional education, by creating and fostering a stimulating intellectual community built upon interactive dialogue and inquiry among students, faculty, and staff. In 1855 attorney and abolitionist Ovid Butler founded the school on the principle that everyone deserves an excellent education, regardless of race or gender, a bold idea in pre-Civil-War America. Today, we've built on Butler's vision to create a community of students and faculty that learn by doing, a community that values hard work as an essential building block for success, whether in the classroom, on the field, or out in the world. Butler University is the only Midwest Regional University to earn the U.S. News designation as Most Innovative School, according to the magazine's 2018 rankings. For the eighth consecutive year, Butler ranks No. 2 overall among 171 Midwest Regional Universities. Butler is also recognized among the best in the nation for four co-curricular programs that enhance the educational experience for students. For more information, visit www.butler.edu.