PALNI Awards 2019 Innovation Grant to Butler University Library Photogrammetry Project
The Private Academic Library Network of Indiana Inc. (PALNI) has awarded the 2019 PALNI Innovation Grant to Butler University for their proposal, Making Cultural Heritage Artifacts into 3D Digital Objects using Photogrammetry. The grant aids initiatives that optimize library resources and services in ways that significantly expand the ability of supported organizations to support teaching and learning at PALNI institutions. Funded programs, projects, and initiatives must align with PALNI strategic priorities and promote PALNI deep collaboration.
Butler's interest in using photogrammetry to teach, preserve and give access to 3D special collection materials was cross-departmental between the Library, Center for Academic Technology, and the Butler Art Committee. The photogrammetric process provides a non-contact approach to digitize materials by creating a 3D digital surrogate of an analog object via photography and special software. The project will allow increased access and allow for potential hands-on use of items found in Butler University's art collection without risking damage to priceless items.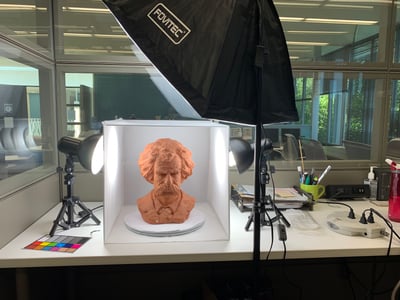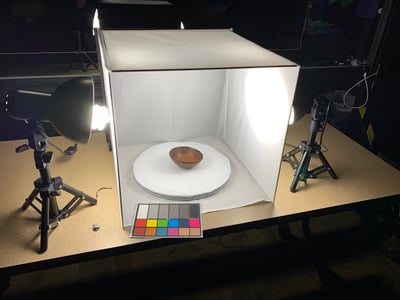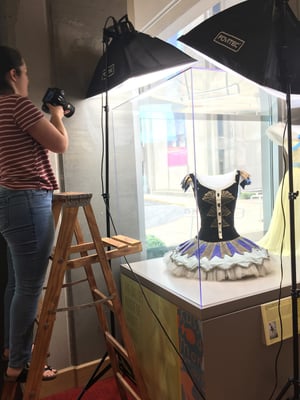 "The Innovation grant has been essential to this project. The salary for our student employee, Tatum Turner, was funded through the grant, and Tatum has been instrumental in experimentation with the photogrammetry process and in researching best practices," shares grant recipients Scholarly Communication Associate Olivia MacIsaac and Academic Technology Specialist Kristen Allen. "Furthermore, through the Innovation grant, we have experimented with various lighting sources to find the best to recommend to other institutions."
MacIsaac, Allen and Turner have been documenting the process and best practices throughout the project and plan to build an open Canvas course for other PALNI libraries to use as training by the end of Fall 2019 (tentative). In keeping this project as affordable and accessible as possible, they are also looking into different models of collaboration between PALNI libraries ranging from virtual access to the special software, centrally processing photosets, and/or implementing regional trainers to assist in the process. The goal is to have the collaboration model in place by Spring 2020 where the other PALNI institutions will be able to learn about this exciting opportunity at the tentatively planned PALNI bi-annual staff meeting.
By the end of Summer 2019, Butler will have at least 10 objects digitized and in the online collection. They are excited to scan more of the Butler Art collection and potentially the Eliza Baker collection. All 3D scans can be found in Butler's SketchFab portal and eventually fully integrated into CONTENTdm to be included in the library's digital collections.

---
About Butler University: Located in the heart of the Indianapolis Butler-Tarkington neighborhood, Butler University seeks to provide the highest quality of liberal and professional education and to integrate the liberal arts with professional education, by creating and fostering a stimulating intellectual community built upon interactive dialogue and inquiry among students, faculty, and staff. In 1855 attorney and abolitionist Ovid Butler founded the school on the principle that everyone deserves an excellent education, regardless of race or gender—a bold idea in pre-Civil-War America. Today, we've built on Butler's vision to create a community of students and faculty that learn by doing—a community that values hard work as an essential building block for success, whether in the classroom, on the field, or out in the world. Butler University is the only Midwest Regional University to earn the U.S. News designation as Most Innovative School, according to the magazine's 2018 rankings. For the eighth consecutive year, Butler ranks No. 2 overall among 171 Midwest Regional Universities. Butler is also recognized among the best in the nation for four co-curricular programs that enhance the educational experience for students. For more information, visit Butler University online.