PALNI awards Library Innovation Grants to three supported institutions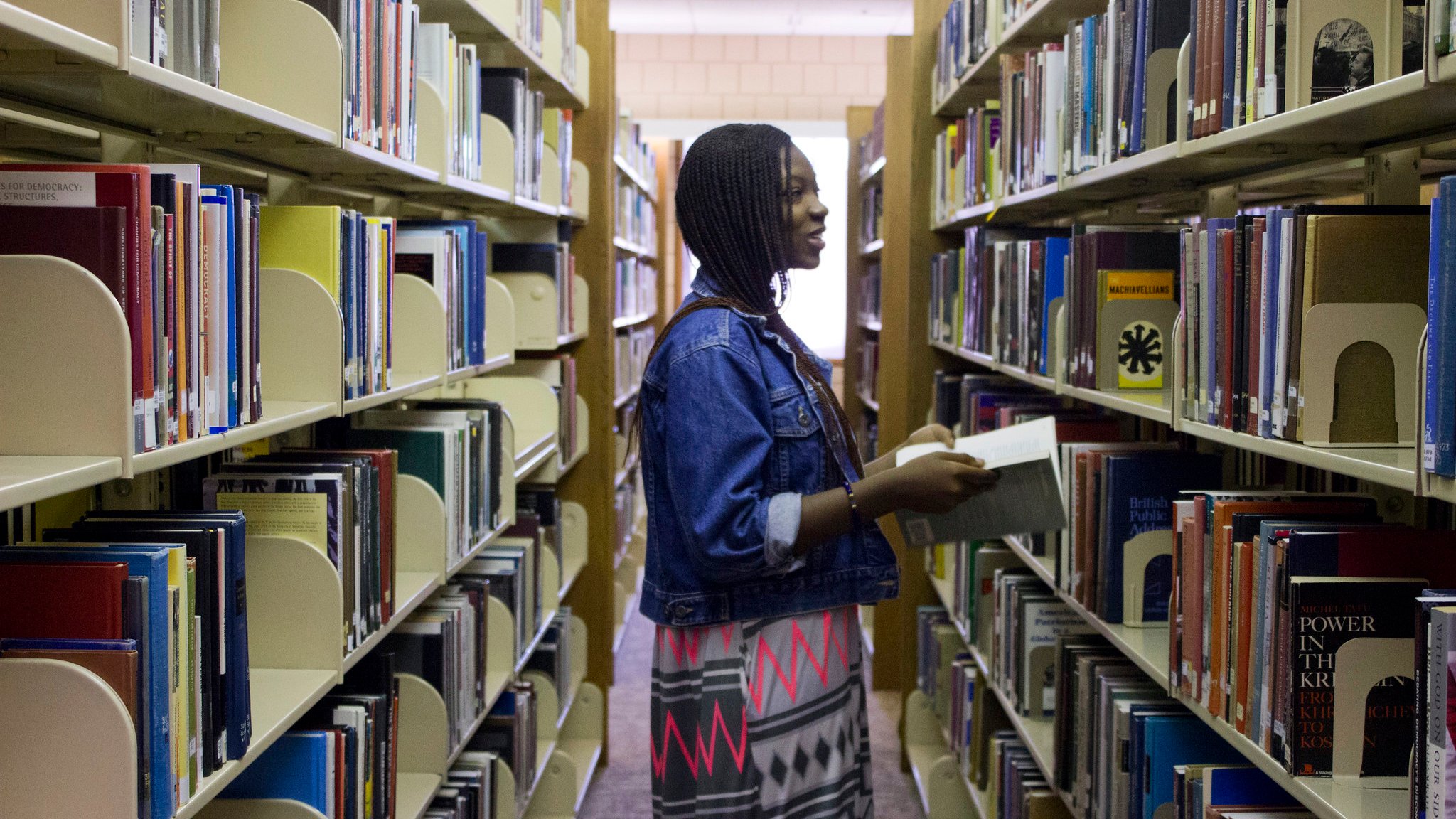 The Private Academic Library Network of Indiana (PALNI) has awarded grants to the libraries of three of its institutions to support their innovative ideas for enhancing student learning and success.
DePauw University, Taylor University and the University of Saint Francis are the 2022 recipients of the PALNI Library Innovation Grant—an award that funds programs, projects and initiatives that align with PALNI strategic priorities and support deep collaboration throughout the consortium.
As higher education evolves, academic libraries continue to be agile hubs that provide students with a sense of community and ubiquitous access to information. These grants will fund the libraries' proposed initiatives in areas that meet students' growing needs, including access to collections through controlled digital lending, developing interactive online tutorials, and creating enhanced learning spaces.
"PALNI Library Innovation Grants aim to optimize library resources and services in ways that significantly expand the ability of PALNI schools to support teaching and learning at their institutions," says Kirsten Leonard, PALNI Executive Director. "This year's grant recipients submitted projects that the review committee believes will have a lasting impact on student success and retention across supported organizations. We look forward to seeing the results of their innovative ideas."
Proposals are evaluated and selected for funding based on their creativity, clearly defined and measurable objectives, replicability by other PALNI institutions, and long-term sustainability. The projects are supported for up to one year, with recipients expected to present their results and share ideas for further collaboration and innovation across PALNI forums at the end of the granting period.
This year's funded proposals include:
DePauw University—Controlled Digital Lending (CDL) Infrastructure Project
Controlled digital lending, or CDL, is an emerging method that allows libraries to loan print books to patrons digitally in a "lend like print fashion." Through CDL, libraries use technical controls to ensure a consistent owned-to-loaned ratio—meaning the library circulates the exact number of copies of a specific title it owns, regardless of format, putting controls in place to prevent users from redistributing or copying the digitized version.
DePauw University's goal through the CDL Infrastructure Project is to provide digital access to any items in its collection and, in doing so, offer equitable access to the collection not just to their university but all of PALNI.
"We saw the need for digital reserves due to the COVID-19 pandemic shutdown of campus, as well as the closure of our main library due to a renovation project," says Victoria Peters, Scholarly Communication and Cataloging Librarian at DePauw. "However, the academic publishing community has made creating digital copies of textbooks and other course materials difficult due to licensing and cost barriers. CDL helps alleviate access issues for all students."
Project organizers will use the grant funds to purchase the equipment and software needed to implement a CDL program. Once an initial set of materials has been digitized, they will establish a pilot program with faculty and students who will use the CDL course reserves materials in their classes and provide feedback for assessment. A second pilot program will take place the following semester.
Concluding the pilot sessions, organizers plan to open the availability of CDL requests to include all of DePauw Libraries' physical collection. They will also establish best practices for implementing similar CDL programs at other PALNI institutions.
Taylor University—Improving Student Success by Providing Quiet Study Space
Modern libraries are in a state of reinvention. As more digital materials are acquired and traditional study space is transformed, libraries are finding ways to create flexible, multi-use spaces that meet students' evolving needs.
At Taylor University, students' requests for additional quiet study areas led library staff to think outside the box—by bringing learning inside the box. Taylor will use grant funds to purchase state-of-the-art study pods designed for individual use by those looking for a quiet workspace.
"While libraries have evolved to become more active and open environments, research continues to show that students most frequently come to the library to study individually," says Shannon Eaves, Director of Taylor's Zondervan Library. "By installing individual study pods, Zondervan Library hopes to alleviate the tension between those wanting to do collaborative group work and those who desire a place for quiet individual study. We believe the library can successfully provide both."
Soundproof, moveable and equipped with electric air circulation and LED lighting, the pods will help eliminate distractions so students can fully concentrate on their studies while still being in the company of their peers. According to some research, the act of working alone, yet among others, has a positive effect on student focus and motivation. Because of this benefit, the pods have the potential to impact students with diverse learning styles and needs. Project organizers plan to partner with the university's accessibility services team to explore possible areas of impact and ensure inclusivity in pod use.
Taylor plans to pilot the use of two study pods for a full academic year in order to gauge usage statistics from students, and assess impact and demand. If deemed successful, the library will invest in additional pods in the future—creating a flexible, individual study environment without the need for construction that would permanently alter library space.
University of Saint Francis—Creating Innovative, Interactive, and Engaging Online Tutorials for Student Success
Education operates largely in a virtual world, where students, faculty and devices are all connected, and information is available whenever and wherever needed. In order to prepare students to work and innovate in a technology-driven society, colleges and universities have to stay ahead of the digital curve.
The University of Saint Francis library plans to address a gap in technological service offerings by creating a new series of engaging, interactive tutorials for virtual and hybrid learning. Project organizers will use grant funds to purchase licenses for Articulate, software that allows users to create online courses easily through intuitive design.
In collaboration with USF's Teaching and Learning Services Department, library staff will use Articulate to develop materials that guide students on how to use library resources and conduct academic research. The tutorials will be embedded in the library's website and the university's learning management system for easy access and increased visibility of library services.
"One of the biggest advantages the new tutorials will offer is interactivity—we want users to be engaged, active participants in the material," says Kerri Killion-Mueller, Reference and Instruction Librarian at USF's Lee and Jim Vann Library. "Features that can be embedded into the tutorials include timelines, flash cards, quizzes and much more. Users will receive immediate feedback after each interactive component, so they know right away how they are performing."
Project organizers will develop storylines, scripts and digital files that can be shared and replicated among PALNI institutions. In alignment with the consortium's objective to provide strategic services to meet changing institutional and information needs, the tutorials will allow the library to reach students with diverse learning styles, ensuring learning will be more inclusive.
To learn more about the libraries at DePauw University, Taylor University, or the University of Saint Francis, visit them online.
For more information about PALNI, visit the consortium website.
About the Private Academic Library Network of Indiana
The Private Academic Library Network of Indiana (PALNI) is a non-profit organization that supports collaboration for library and information services for 24 colleges, universities and seminaries throughout the state. From its inception in 1992, the PALNI collaboration has been a key avenue for its supported institutions to contain costs while providing more effective library services. More recently, PALNI has adopted a model of deep collaboration that pools resources and people as a tool to expand services while keeping costs down. PALNI's board of directors, composed of all 24 library deans and directors from the supported organizations, convened a Future Framing Task Force in 2019 to address ongoing demographic challenges in higher education. The board has escalated this work in the wake of COVID-19, as the consortium seeks to manage increased need for online support while reducing costs. To help address these financial challenges, the PALNI board of directors made the commitment to hold flat the costs shared among the supported organizations over the next 10 years. Simultaneously, PALNI is expanding collaboration within its institutions and with external library partners to address challenges and build cost-effective services. Visit the PALNI website for more information.
PALNI Supported Institutions
Anabaptist Mennonite Biblical Seminary | Anderson University | Bethel University | Butler University | Concordia Theological Seminary | Christian Theological Seminary | DePauw University | Earlham College | Franklin College | Goshen College | Grace College | Hanover College | Huntington University | Manchester University | Marian University | Oakland City University | University of Saint Francis | Saint Mary-of-the-Woods College | Saint Mary's College | Saint Meinrad's Seminary and School of Theology | Taylor University | Trine University | University of Indianapolis | Wabash College