Q&A with OER all-star Andrea Bearman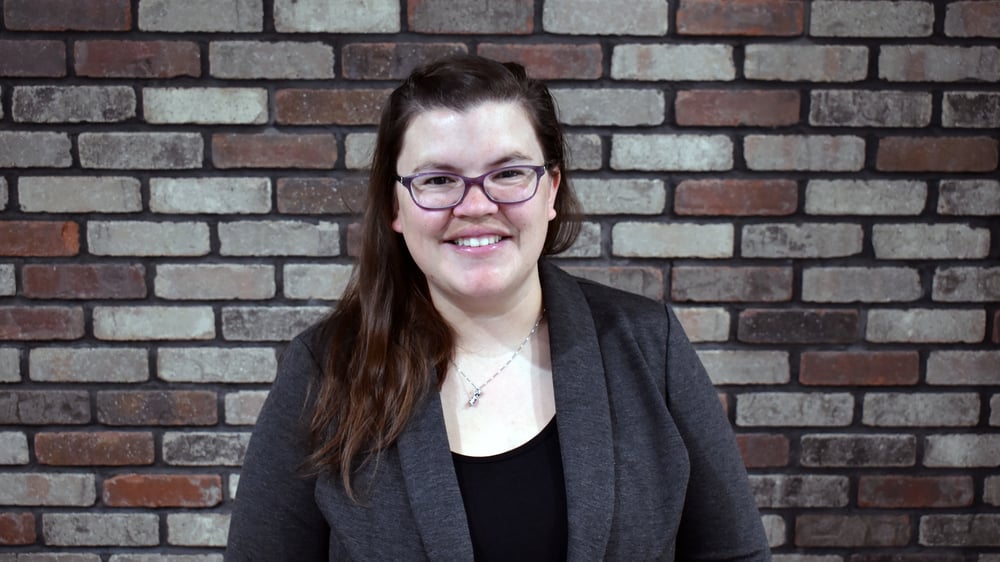 Andrea Bearman is an all-star when it comes to open educational resources (OER). As Director of Instructional Design and Development for Trine University's online campus, Bearman plays an essential role in faculty and course development. Only two years into her position, she has built an outstanding 12 open textbooks (and counting!) for Trine faculty through the PALNI Press, and has worked on more than 100 courses incorporating OER. In 2022, Bearman earned a PALSave Open Educator Award for her efforts in creating freely accessible materials available to students at PALNI-supported schools and scholars worldwide. Here, she shares her experiences with OER and its impact.
Please tell us more about your role at Trine.
My role boils down into two main parts: faculty development and course development. It entails training faculty on how to develop courses, how to engage students more, and how to build OER or incorporate it in their classes. I do a lot of research finding existing OER for instructors, and in some situations I build open textbooks for them. I have built materials for 30 faculty members and am currently using OER that I've made for the faculty courses I teach.
What encouraged you to explore OER as an option for students and faculty?
One of my responsibilities is to be the subject matter expert on OER. I didn't know what OER was prior to starting this position, so I took the Creative Commons Certificate course and in it they have this fantastic, openly licensed textbook. I loved it and thought, if I want faculty to adopt OER I have to set an example and provide materials for them to look at. So I began building textbooks for courses I was developing. I then started collaborating with our librarians and other departments to build textbooks where they just currently didn't exist or where an improvement was needed.
How much has OER use grown on your campus since starting this position?
We went from having 60 OER courses to over 150, which is a huge jump in just a year! It's incredible.
How have students been receiving open textbooks?
We have received some really powerful feedback from student perception surveys. Many said that because they weren't buying textbooks they could afford healthcare or their medications, or that they could get their car fixed, or focus on paying for textbooks in other courses. One student even said that saving money on textbooks allowed them to buy more instant ramen, which I loved. It's fantastic that saving this money allows them to improve their lives in other ways.
In what ways has the library at Trine supported you in this process?
Jill Noyes (Director of Information Services) and I collaborated on a research book, and any time I have a copyright question, Jill or Kristina Brewer (Director for Graduate and Distance Information Services) will help me. The library staff has been supportive in the process.
What has your experience with the PALNI Press been like?
I looked at several other platforms before I knew that creating OER was possible through PALNI, so I've done my homework. I like how PALNI Pressbooks looks, and it's very user friendly and intuitive. There have been a few times when I've needed to ask the PALNI scholarly communications team for help, but overall I have had minimal issues.
What advice would you give to others who are looking to produce OER for the first time?
The best piece of advice I can give is to take the Creative Commons Certificate course because it's awesome. I would also say, just be patient with yourself and give yourself some mercy, especially if it's your first time. I definitely have a system for textbook creation now, and it's much easier.
What types of OER would you like to produce or assist with in the future?
I would like to help with more engineering course materials because I think I would enjoy the challenge. We are also going to be launching a doctorate of instructional technology, and I would love to see some of those classes use OER.
Is there anything you would like to add?
I know faculty really appreciate the stipends and grants that PALNI offers for open textbook reviews and creation. I am currently helping with PALSave textbook grants and I'm looking forward to seeing what those develop.
To learn more about PALNI open publishing, visit the PALNI Press website.