PALNI Library Innovation 2016 Grantees and Call for 2017 PALNI Library Innovation Grant Applications
The second annual PALNI Library Innovation Grant cycle awarded funding to three programs in February of this year. We have already received inspiration reports from the projects and look forward to seeing more in the next PALNI Library Innovation Grant cycle. The funding provided by PALNI Library Innovation Grants aims to optimize library resources and services in ways that significantly expand the ability of supported organizations to support teaching and learning at PALNI institutions. Funded programs, projects, and initiatives must align with PALNI strategic priorities and support PALNI deep collaboration.
2016 Grant Recipients
Heather Loehr, Hanover College
Information Now! On-demand and Embedded Learning Modules for Information Literacy Instruction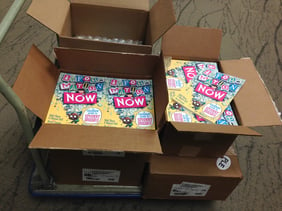 The project will purchase the recently published graphic novel, Information Now: A Graphic Guide to Student Research (Upson, Hall, Cannon, University of Chicago Press 2015), for 350 first year students, to offer a comprehensive, fun, and engaging mini-course in information literacy skills. The Coordinator of Library Instruction, and the Director of the Center for Learning and Teaching, plan to adopt this title as a required text for first-year students, and to use it as the basis developing seven learning modules which librarians may use to supplement direct or embedded instruction, faculty can adopt for DIY-instruction in any course, or which students may use independently for self-learning. Each module will incorporate a lesson plan, tutorials in various media, critical thinking exercises, and assessment tools. We will work with a pilot group of faculty in the First Year Experience, and in each WSAC area: Writing 1, Writing 2, and Speaking, who will volunteer to collaborate with librarians on the implementation and assessment of the modules in their courses. Materials developed will be shared to other PALNI member libraries.
For more information see the LibGuide on the Information Now project.
Tim Salm, Saint Joseph's College
Re-Engineering an Academic Library for Student Success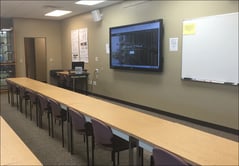 Saint Joseph's College is developing and hosting an eight-part workshop series focusing on productivity and creativity tools specific to academic work products. Each workshop will be recorded as well so as to support future blended learning activities on-campus. The workshop series is designed to assist students in improving their skills and knowledge specific to desktop publishing, graphic design, slideshow presentations, college-level research, interlibrary loan, alert notifications, spreadsheets, and relational databases. It is through these new skills and knowledge that students will be better prepared to meet the challenges present in their current studies and their future careers. Tim Salm has been sharing reports and samples of the workshop outcomes as the work progresses. The workshops will be made available to the PALNI libraries to spur further innovation.
Caroline Gilson, Associate Dean of Libraries and Coordinator, Prevo Science Library, DePauw University
Learning Together: Continued Exploration of Arduino & Related Emerging Technologies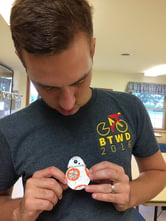 This grant funded attendance at a weeklong SparkFun Electronics workshop (Microcontrollers for Educators, July 11-15, 2016) in Niwot, Colorado for PALNI librarians and supported project exploration and creation after the workshop. The July 2016 SparkFun workshop will continue the conversation among the participants and across PALNI on how librarians can work together to explore and create emerging technology projects. Funds will also help with developing and constructing physical projects after the workshop. (Previous PALNI Innovation grant funds have funded the July 2016 workshop registration fees for three librarians.) One of the outcomes of the workshop was demonstrated at CAMP RIO in the creation of a wearable technology item.