PALNI and PALCI launch new Hyku for Consortia toolkit and redesigned website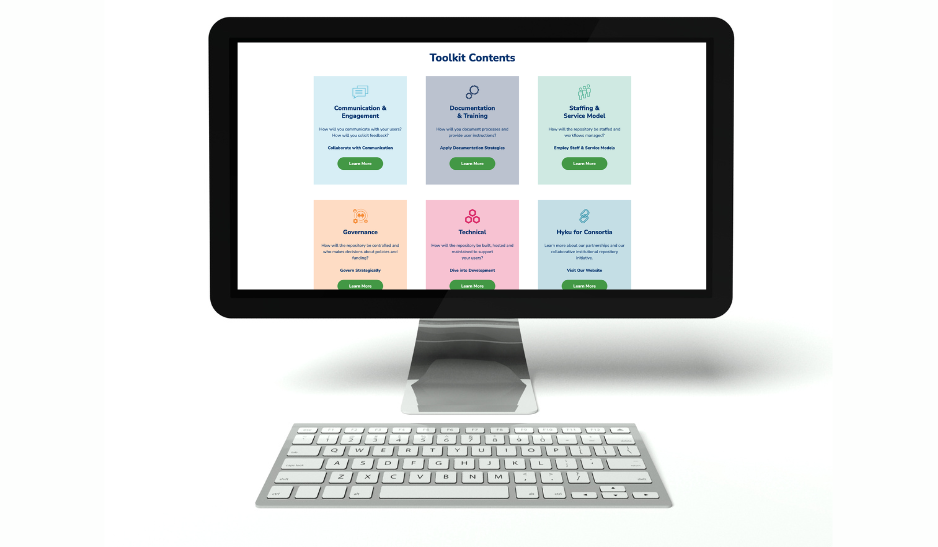 INDIANAPOLIS, Ind. and DREXEL HILL, Pa.—The Private Academic Library Network of Indiana (PALNI) and The Partnership for Academic Library Collaboration & Innovation (PALCI) are proud to announce the launch of a redesigned Hyku for Consortia website and new collaborative repository toolkit.
Developed as part of the IMLS grant-funded Hyku for Consortia initiative, these resources provide new assets and best practices to assist consortia and groups of libraries in creating and managing their own digital repositories. The revamped website offers information and demonstrations for those seeking to deploy institutional repository solutions, while the toolkit provides guidance on communication and engagement, documentation and training, staffing and service models, governance, and technical support.
"Our goal in launching the new Hyku for Consortia toolkit and redesigned website is to provide consortia and library groups with a replicable model for shared repository services," says Amanda Hurford, PALNI Scholarly Communications Director and Hyku for Consortia Project/Product Manager. "These tools are designed to help groups tackle the challenges that come with establishing and facilitating an effective shared repository. The toolkit offers practical examples from our project that can be applied to any platform, such as staffing and workflow management, collaborative leadership and funding, and user sustainability. The website complements the toolkit by providing detailed information on the Hyku for Consortia initiative and further opportunities for participation."
Why repositories?
Repositories play a vital role in library infrastructure, enabling access to various digital materials created by students, faculty, staff, and researchers. With ongoing budget constraints, libraries seeking to deploy repositories are increasingly turning to consortia for support.
The Institute of Museum and Library Services (IMLS) awarded a grant to PALNI and PALCI in 2021 to enhance the affordability and flexibility of Hyku adoption in a scalable, multi-tenant environment. Hyku for Consortia expands on the existing Hyku software, which was developed by the Samvera community. It continuously integrates feedback from Hyku Commons users, with development support from Software Services by Scientist.com.
These advancements are then shared back with the open-source community.
"Community-owned infrastructure, such as Hyku, empowers us to shape scalable solutions through collaboration and partnerships, surpassing the limitations of proprietary software," say Kirsten Leonard, PALNI Executive Director, and Jill Morris, PALCI Executive Director, in a joint statement. "The Hyku for Consortia initiative leverages the expertise of not only the project staff but our users, who provide continuous feedback that informs development decisions. By working together, we reduce costs, avoid duplication of efforts, and provide essential resources for all involved."
The Hyku for Consortia toolkit and new website follow a recent major system upgrade, which included enhancements in areas such as reporting analytics and metadata flexibility. The next phases of the Hyku for Consortia project will focus on user experience research and data collection to identify and prioritize additional functionality improvements, particularly those that may hinder Hyku adoption.
For more project and product information, news and updates, visit the Hyku for Consortia website.
About the Institute of Museum and Library Services (IMLS)
The Institute of Museum and Library Services is the primary source of federal support for the nation's libraries and museums. We advance, support, and empower America's museums, libraries, and related organizations through grantmaking, research, and policy development. Our vision is a nation where museums and libraries work together to transform the lives of individuals and communities. To learn more, visit www.imls.gov and follow us on Facebook and Twitter.
About the Private Academic Library Network of Indiana, Inc. (PALNI)
PALNI is a non-profit organization supporting collaboration for library and information services to the libraries of its twenty-three supported institutions. Over time, the library deans and directors who sit on the PALNI board have adjusted the organization's strategic direction as the internet and information services landscape has changed. PALNI has expanded beyond providing a resource management system to sharing expertise in many areas, including strategic planning, reference, information flue, outreach, data management, and configuration, and has identified greater collaboration in acquisitions as a key goal. www.palni.edu
About The Partnership for Academic Library Collaboration & Innovation (PALCI)
The PALCI organization was originally founded as the 'Pennsylvania Academic Library Consortium, Inc.," and was formed in 1996 as a grassroots federation of 35 academic libraries in the Commonwealth of Pennsylvania. Today, PALCI is known as Partnership for Academic Library Collaboration & Innovation, with membership consisting of 74 academic and research libraries, in Pennsylvania, New Jersey, West Virginia, and New York. PALCI's mission is to enable cost-effective and sustainable access to information resources and services for academic libraries in Pennsylvania and surrounding states. PALCI Members serve over 800,000 students, faculty, and staff at member institutions, through a variety of programs, including the highly-regarded EZBorrow resource sharing service. PALCI also serves as the home for the Affordable Learning PA program, creating a community of practice for open textbooks and related educational resources. https://palci.org
About Samvera
Samvera is a vibrant and welcoming community of information and technology professionals who share challenges, build expertise, and create sustainable, best-in-class solutions, making the world's digital collections accessible now and into the future. Samvera believes that no single system can provide the full range of repository-based solutions for a given institution's needs and that no single institution can resource the development of a full range of solutions on its own. Working together, the Samvera Community creates sustainable solutions using a common infrastructure within which there is the flexibility to tailor solutions to local demands and workflows. Samvera software is free and open source, available under an Apache 2 license. Visit samvera.org to learn more.
About Scientist.com
Scientist.com's mission is to empower and connect scientists worldwide. By transforming the way scientific research is performed, our Science as a Service® platform accelerates discoveries that cure disease, address climate change and help secure global food and energy supplies. We combine sophisticated AI technology with white-glove Research Concierge® support to enable researchers to run more innovative experiments faster and cheaper. Scientist.com acquired Notch8, a San Diego-based company offering application and software development services, in 2022. The acquisition of the company—now called Software Services (SoftServ)—enabled Scientist.com to begin offering web services—such as web and mobile application development, code audits, framework upgrades, deployment optimization and monitoring and support—to its existing global network of researchers and service providers.