Library directors from two PALNI schools selected for Harvard Leadership Institute
The Private Academic Library Network of Indiana (PALNI) has awarded leadership development grants to directors from two of its supported institutions to attend the Harvard Leadership Institute for Academic Librarians. Amy Bryant, of Earlham College and Jessica Trinoskey, of Marian University, were selected to attend the institute in July at the Harvard Graduate School of Education campus in Cambridge, Massachusetts.
The competitive, five-day institute helps academic librarians gain a deeper understanding of the leadership skills and strategies needed to manage contemporary academic libraries in challenging contexts.
The program aims to address topics ranging from contemporary leadership challenges to Diversity, Equity, Inclusion, and Belonging (DEIB), leading transformational change and more.
Objectives for participants include:
Learning about the factors that improve and inhibit leadership effectiveness.
Increasing leadership effectiveness in ways that drive innovation and generate lasting impact.
Developing strategies to address short- and long-term challenges within the library.
Participating in meaningful personal reflection and professional renewal among a supportive community of colleagues.
"Deep collaboration amongst the PALNI libraries means that all benefit from the enhanced leadership and strategy skills of our board, comprised of all our library directors," says Kirsten Leonard, PALNI Executive Director. "Small private colleges are faced with increasing challenges. Leveraging our shared leadership means PALNI supported institutions and their libraries are able to provide the services of much larger schools, while fees assessed to institutions are contained. We are able to meet these challenges with the strength of our leadership in the library director role, making leadership development an important investment that benefits our institutions and student outcomes."
"The Harvard Leadership Institute provided an excellent opportunity to network with library directors from a variety of different institutions, including international participants," Bryant says. "It was encouraging to hear that so many library management issues are universal and happen at institutions of all sizes and locations. Small group cohorts allowed us to dig deeper into discussions of the topics, so we could share strategies and best practices. I especially appreciated that the teachers and planners infused diversity, equality, and inclusion topics throughout the curriculum."
About Bryant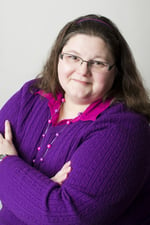 Amy Bryant has served as the Library Director for Earlham College since August 2020. She has a bachelor's degree with a double major in music and English from Butler University and a Master of Library Science from Indiana University.
Bryant recently co-authored a chapter on Earlham Libraries' LIFT program to support first-generation college students that was included in the 2020 book, "Diversity, Equity, and Inclusion in Action: Planning, Leadership, and Programming," edited by Christine Bombaro.
In addition, Bryant is a member of the American Library Association, the Association of College and Research Libraries, and the American Association of University Professors.
About Trinoskey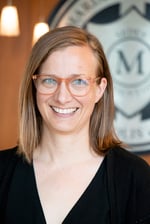 Jessica Trinoskey has been Director of Library Services for Marian University Libraries since August 2018. She has a bachelor's degree in business and administration from Southern Illinois University and a Master of Library Science from the University of Illinois.
Trinoskey has held positions in public libraries as a Young Adult Librarian (Nashville, TN) and Branch Manager (Indianapolis, IN), and as a Business Librarian at Indiana University–Purdue University Indianapolis (IUPUI) and Adjunct Business Librarian at Butler University. She also teaches First Year Seminar at Marian and is currently serving on the Board of Directors for Academic Libraries of Indiana (ALI).
Additionally, Trinoskey is a member of the American Library Association and the Association of College and Research Libraries.
To learn more about the Harvard Leadership Institute for Academic Librarians, visit the program online.
For information about PALNI, go to the consortium's website.
About the Private Academic Library Network of Indiana
The Private Academic Library Network of Indiana (PALNI) is a non-profit organization that supports collaboration for library and information services for 24 colleges, universities and seminaries throughout the state. From its inception in 1992, the PALNI collaboration has been a key avenue for its supported institutions to contain costs while providing more effective library services. More recently, PALNI has adopted a model of deep collaboration that pools resources and people as a tool to expand services while keeping costs down. PALNI's board of directors, composed of all 24 library deans and directors from the supported organizations, convened a Future Framing Task Force in 2019 to address ongoing demographic challenges in higher education. The board has escalated this work in the wake of COVID-19, as the consortium seeks to manage increased need for online support while reducing costs. To help address these financial challenges, the PALNI board of directors made the commitment to hold flat the costs shared among the supported organizations over the next 10 years. Simultaneously, PALNI is expanding collaboration within its institutions and with external library partners to address challenges and build cost-effective services. Visit the PALNI website for more information.
PALNI Supported Institutions
Anabaptist Mennonite Biblical Seminary | Anderson University | Bethel University | Butler University | Concordia Theological Seminary | Christian Theological Seminary | DePauw University | Earlham College | Franklin College | Goshen College | Grace College | Hanover College | Huntington University | Manchester University | Marian University | Oakland City University | University of Saint Francis | Saint Mary-of-the-Woods College | Saint Mary's College | Saint Meinrad's Seminary and School of Theology | Taylor University | Trine University | University of Indianapolis | Wabash College