Indiana educators awarded PALSave grants for open textbook creation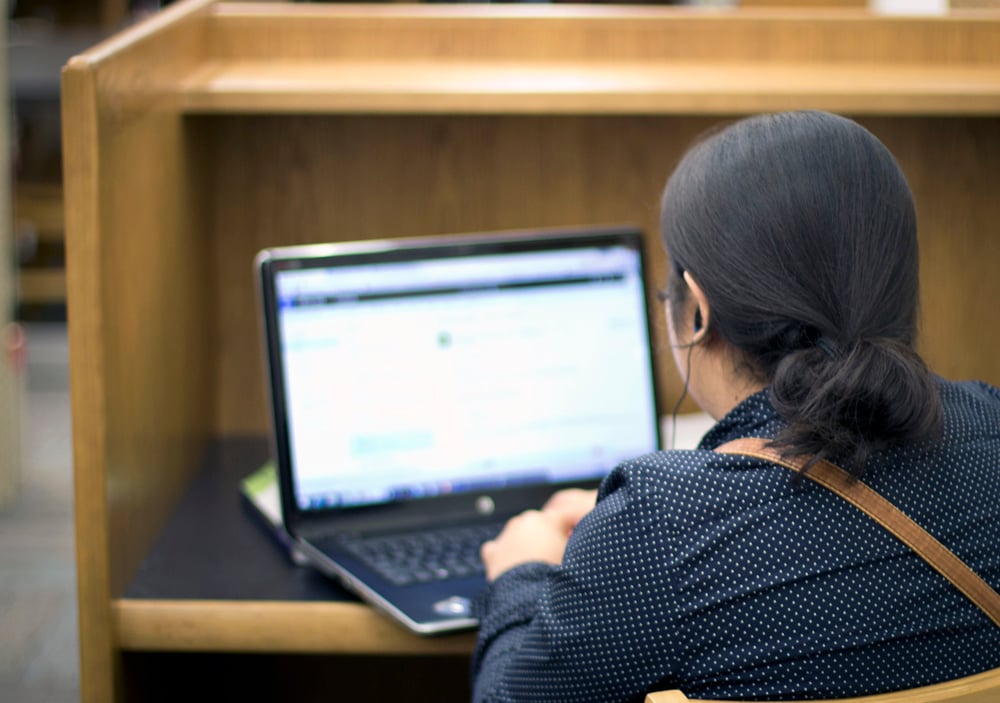 Faculty members from Franklin College (Franklin student pictured), Anderson University and Marian University are making higher education more affordable by authoring free and open textbooks through PALSave Textbook Creation Grants.
The Private Academic Library Network of Indiana (PALNI) has awarded PALSave Textbook Creation Grants to faculty authors from three of its supported institutions. The grants will allow these educators to develop open textbooks that are freely available online, making them part of a statewide effort to reduce the cost of course materials for college students. Financed with support from Lilly Endowment Inc., each author will receive up to a maximum of $5,000 per project.
The grants—awarded as part of the PALSave: PALNI Affordable Learning program—are given in overlapping two-year cohorts. Titles and authors selected for the current cohort include:
"Social Action Writing: Public Narratives and Methods of Community" by Mark Latta, Assistant Professor of English and Director of Community Engagement, Marian University
"Writing and Digital Media" by Dr. Cara Miller, Associate Professor of English and Director of First-Year Writing, Anderson University
"Ultrasound Physics and its Application in Medicine" by Dr. Arbin Thapaliya, Associate Professor of Physics, Franklin College
"Like so many faculty members from PALNI schools, these textbook authors are fully committed to providing high quality, affordable education materials to students," says Amanda Hurford, PALNI's Scholarly Communications Director and PALSave project lead. "Their hard work and dedication to making textbook affordability a reality is truly admirable, and we look forward to supporting them in the process."
Grant recipients are already working to produce the open textbooks, which are set to be published in fall 2024, tentatively.
"I am grateful for this opportunity from PALNI and excited to create an open source textbook with my contributing authors," says Latta. "This will allow us to create a textbook that encourages faculty, students, and community residents to celebrate communities and create social change through writing and public literacy. PALNI's support for open educational resources will allow others to use this work free of charge, for their own purposes, which is something I wholeheartedly support as an educator."
"This textbook will cover general aspects of diagnostic ultrasound, providing an excellent reference for both beginners and professionals," says Thapaliya. "We are also hopeful that this textbook will make a positive impact on institutions that are interested in developing ultrasound programs similar to Franklin College's. I am very excited to coauthor it with my colleagues from both academia and the health profession. What's even more exciting is publishing our textbook in the open resource format, which makes it affordable and accessible to users from all around the world. Thank you PALNI for this opportunity!"
Adds Miller, "The PALSave Textbook Creation Grant is such a tremendous opportunity for faculty to share their expertise in a way that is easily accessible to students, faculty, and other professionals in their fields. I'm proud to be part of a project that bridges the gap between quality educational materials and the students who need them most."
About PALSave Textbook Creation Grants
At the start of the program in 2019, PALSave's initial goal was to publish five or more textbooks by late 2023. PALNI recently received added funding from Lilly Endowment to support PALSave, which has allowed the program to award 10 additional textbook creation grants.
The PALNI Open Educational Resource (OER) Publishing Task Force put out a call for proposals in October 2020, receiving 17 in total from its 24 supported institutions. The task force selected projects for funding based on proposal quality, clearly defined goals, need within the current open access body of work, and adoption potential within PALNI schools and beyond.
PALNI coordinates peer review, copyediting, layout, and hosting services to assist grant recipients in their textbook creation. Each textbook is also supported by a local project manager to monitor progress and answer questions throughout development. The open textbooks will be published on the PALNI Press-supported Pressbooks platform alongside other faculty-contributed works, and will ultimately be submitted to the Open Textbook Library and OER repositories.
Several PALSave-funded titles are currently in production, with the program's first open textbook, "The Bible and Music," by Dr. James Mcgrath, Clarence L. Goodwin Chair in New Testament Language and Literature, Department of Philosophy and Religious Studies at Butler University, set for release at the end of 2022.
About Lilly Endowment Inc.
Lilly Endowment Inc. is an Indianapolis-based, private philanthropic foundation created in 1937 by three members of the Lilly family — J.K. Lilly Sr. and sons J.K. Jr. and Eli — through gifts of stock in their pharmaceutical business, Eli Lilly and Company. While those gifts remain the financial bedrock of the Endowment, the Endowment is a separate entity from the company, with a distinct governing board, staff and location. In keeping with the founders' wishes, the Endowment supports the causes of community development, education and religion and maintains a special commitment to its hometown, Indianapolis, and home state, Indiana. More information can be found at www.lillyendowment.org.
About the Private Academic Library Network of Indiana
PALNI is a non-profit organization supporting collaboration for library and information services to the libraries of its twenty-four supported institutions. Over time, the library deans and directors who sit on the PALNI board have adjusted the organization's strategic direction as the internet and information services landscape have changed. PALNI has expanded beyond providing a resource management system to sharing expertise in many areas including strategic planning, reference, information fluency, outreach, data management and configuration, and has identified greater collaboration in acquisitions as a key goal. Visit the PALNI website for more information.
PALNI Supported Institutions
Anabaptist Mennonite Biblical Seminary | Anderson University | Bethel University | Butler University | Concordia Theological Seminary | Christian Theological Seminary | DePauw University | Earlham College | Franklin College | Goshen College | Grace College | Hanover College | Huntington University | Manchester University | Marian University | Oakland City University | University of Saint Francis | Saint Mary-of-the-Woods College | Saint Mary's College | Saint Meinrad's Seminary and School of Theology | Taylor University | Trine University | University of Indianapolis | Wabash College