DePauw University's Prindle Institute for Ethics announces publication of open access electronic books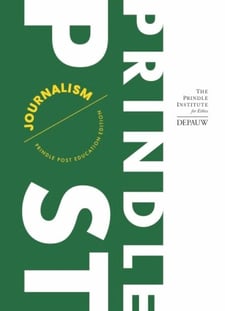 DePauw University Libraries are pleased to announce the publication of four open access electronic books from the Prindle Institute for Ethics.
Available through the PALNI Press, the Prindle Post Education Edition is designed to help high school and undergraduate students, and their teachers, examine some of the most complicated moral questions of today. Each book is focused on a certain topic—COVID-19, Journalism, Climate Change, and Democracy—and includes discussion and activity support for teaching and learning ethics in the classroom.
Victoria Peters, Scholarly Communication and Resource Services Librarian at DePauw, worked to publish the texts using the PALNI Pressbooks platform, an open source book authoring and editing tool offered to PALNI-supported institutions.
"Making these resources open access through PALNI Press was a no-brainer when the Prindle Institute notified DePauw faculty that they could request a physical copy of these texts for free," says Peters. "Now these educational resources are available to a much wider audience and can impact students around the world. I was excited to work on my first Pressbooks project and further the DePauw Libraries' collaboration with Prindle."
"The Prindle Institute for Ethics is dedicated to making ethics education materials and topics for fruitful dialogue accessible to as wide a community as possible," says Christiane Wisehart, Associate Director of Content Strategy for the institute. "Our partnership with Victoria Peters allows us to increase access to these materials while also providing a secure, archival digital home for ephemeral print materials. We're so grateful to Victoria and the PALNI community for providing us this wonderful outlet for our work."
The Prindle Institute regularly produces print editions containing favorite articles from The Prindle Post, a digital publication of public philosophy dedicated to examining the significant ethical issues raised by current events and present in culture. Topics range from health care and bioethics, to politics, business, the environment, and more.
To learn more about the Prindle Institute for Ethics, visit them online. To access the free and open Prindle Post Education Edition eBooks, visit the PALNI Press.
About the Private Academic Library Network of Indiana
The Private Academic Library Network of Indiana (PALNI) is a non-profit organization that supports collaboration for library and information services for 24 colleges, universities and seminaries throughout the state. From its inception in 1992, the PALNI collaboration has been a key avenue for its supported institutions to contain costs while providing more effective library services. More recently, PALNI has adopted a model of deep collaboration that pools resources and people as a tool to expand services while keeping costs down. PALNI's board of directors, composed of all 24 library deans and directors from the supported organizations, convened a Future Framing Task Force in 2019 to address ongoing demographic challenges in higher education. The board has escalated this work in the wake of COVID-19, as the consortium seeks to manage increased need for online support while reducing costs. To help address these financial challenges, the PALNI board of directors made the commitment to hold flat the costs shared among the supported organizations over the next 10 years. Simultaneously, PALNI is expanding collaboration within its institutions and with external library partners to address challenges and build cost-effective services. Visit the PALNI website for more information.
PALNI Supported Institutions
Anabaptist Mennonite Biblical Seminary | Anderson University | Bethel University | Butler University | Concordia Theological Seminary | Christian Theological Seminary | DePauw University | Earlham College | Franklin College | Goshen College | Grace College | Hanover College | Huntington University | Manchester University | Marian University | Oakland City University | University of Saint Francis | Saint Mary-of-the-Woods College | Saint Mary's College | Saint Meinrad's Seminary and School of Theology | Taylor University | Trine University | University of Indianapolis | Wabash College