PALNI Future Systems Investigations News
Communications
December 2022
PALNI joined the National Information Standards Organization (NISO) as a voting member. As part of the consortial agreement, PALNI libraries have the opportunity to join the Library Standards Alliance (LSA).
November 2022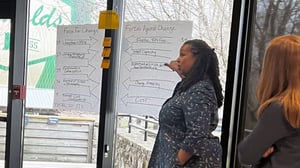 The PALNI Board of Directors held a retreat led by consultants Nancy Kirkpatrick and Michelle Bradley of OhioNet to explore future strategies and introduce tools for decision making in the future systems investigation process.
***
The PALNI Board of Directors voted to extend the consortium's contract with OCLC to 2025.
October 2022
Visits to all 24 PALNI campuses were completed. Associate Director Noah Brubaker held conversations with directors and staff to explore the reasons for considering future systems, examining the costs of retaining OCLC services versus adopting open systems, addressing challenges around staff capacity and system readiness, and planning work with advisory groups.
September 2022
PALNI's Board of Directors unanimously endorsed the International Coalition of Library Consortia (ICOLC) Statement on the Metadata Rights of Libraries. The statement urges all organizations to support libraries' rights and interests to use, re-use, adapt, aggregate, and share metadata without restriction or limitation.
***
In efforts to leverage open infrastructure, the ICOLC Strategies for Open Collaboration in Library Consortia Task Force—which includes PALNI Executive Director Kirsten Leonard—released a report titled Strategies for Collaboration: Opportunities and Challenges to Build the Future We Need.
August 2022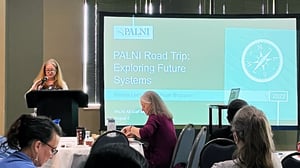 Executive Director Kirsten Leonard and Associate Director Noah Brubaker presented on the Future Systems Journey to library and consortium staff during the PALNI All-Staff Meeting at Conner Prairie. The presentation introduced components of the journey: planning the trip (identifying board priorities), major sights to see (value, interoperability, and agency), fellow travelers (partners and open systems adopters), exploring attractions (investigation stages), experiencing the culture (engagement and participation), and moving toward PALNI's destination (future systems readiness).
April 2022
Saint Mary-of-the-Woods College joins PALNI and agrees to serve as a case study in alternative systems.
***
PALNI is awarded an American Rescue Plan Act (ARPA) grant in the amount of $225,000 from the U.S. Institute of Museum and Library Services, administered by the Indiana State Library. The planning grant enables PALNI to identify ways of expanding current infrastructure to support open bibliographic data management tools, which library staff use to manage and share collections. The project aims to significantly enhance financial sustainability and access to information, allowing libraries to further deliver on their critical role in student success.
Early 2022
PALNI begins discussing and exploring the possibility of adopting open systems as an alternative to contractual, vendor-negotiated services.